Nice HP Desktop Computer For Sale
DC7900 Intel Core 2 Duo E8500 3.16GHz Small Form Factor PC - 8GB DDR3 RAM, 500GB 7200rpm SATA HDD, Integrated Graphics, Gigabit Ethernet, DVD-RW, Microsoft Windows 7 Pro - Used Refurbished
(Includes a New Keyboard and Mouse, Monitor & Printer not included)
Plenty of Life Remaining
This Used Refurbished computer has performed well over the years and still has plenty of life left for someone needing a decent reliable machine. Able to do all the things that you would want from a home workstation or business desktop.
It's been completely refreshed with a new installation of Windows 7 and I've installed many of the very useful free utilities that you can read about under my "Best Utilities" article. This machine can easily handle Spreadsheets, Documents, Photo Editing, Web Surfing, Email and most games that don't require high-end graphics.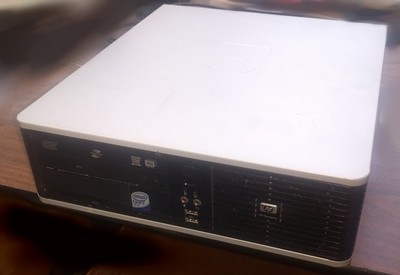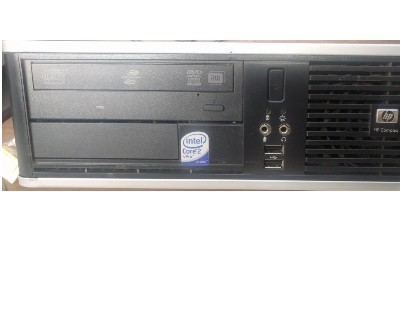 Powered by an Intel Core 2 Duo processor running at 3.0Ghz means it's got decent speed. The DVD/RW works well allowing you to burn your data or videos to DVD or CD discs.
Up front, you have standard jacks for headphone, microphone, or left/right speakers. And 2 available USB ports for memory sticks or external drives.
This system sells online starting at $79 depending on what components it has. Different RAM, Hard Drive sizes, ports, and DVD/RW versus DVD/ROMs.
If you compare you'll see this one is priced very reasonably at $99.00
Ports a Plenty
Looking at the back you can see this machine is well outfitted with all the usual ports and some older ones that are getting harder to find.
1 x Network Ethernet RJ-45 Port
6 x USB 2.0 Ports (plus the 2 up front)
1 x Display Port (not HDMI but it can be with an adapter)
1 x 9 pin Serial Port
1 x Standard VGA Video Port
2 x PS/2 Ports (Keyboard & Mouse)
2 x Audio Ports ( 1x Mic and 1x Speakers)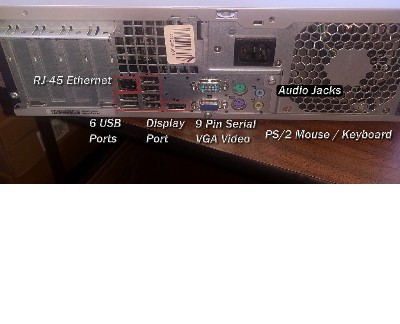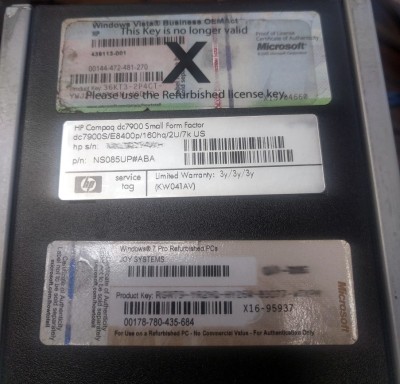 Actual Images
I'm showing you photos of the unit that is for sale, not some stock images like everyone else does. You see exactly the machine you are buying here. I have gone through it and even done some upgrading to it. This has a newer 500GB, 7200rpm, hard drive and additional RAM that I installed.
I re-installed the factory copy of Windows 7 Pro and configured it and installed all the windows updates. This way you won't have to wait to use it
I upgraded the RAM from 4GB to 8GB making this machine very capable of having multiple programs running at the same time. 4GB is minimal, you will have double that amount.
The Hard Drive I installed is a much larger hard drive. Originally this had a 160GB drive. I replaced it with a 500GB drive that runs at 7200rpm. It's as fast as you can get without upgrading to a Solid State Drive (SSD).
I have no doubt that this computer will perform well and do the job you need it to do.
Now Here is what HP has to say about this model
Highly Secure, Stable, Efficient, Reliable
The DC7900 has been engineered for the specific needs of business computing. From lengthy life cycles to stable hardware and software images, this platform delivers the latest in PC technology, qualified to HP's highest standards; the DC7900 makes the most of your IT investment.

A good fit for your business
With the latest Intel technologies including the Intel Q45 Express chipset featuring integrated graphics and Intel Core 2 Duo processors provide the performance you expect from a commercial class PC. Utilize the latest graphics and display technologies with standard dual monitor support via both VGA and DisplayPort interfaces.
(FYI: DisplayPort is a special connection that would require separate special cable which is available but not included.)

Built to Conserve:
Lower your operating costs through improved power saving technology such as new processors, 85% efficient power supplies, data drives, and power management solutions supporting lower energy usage and costs. The HP Compaq DC7900 meets or exceeds most worldwide environmental PC standards. DC7900 models are EPEAT Gold registered and ENERGY STAR qualified.